Our Roots
The Coca-Cola heritage in Malta dates to 1952 when it was first introduced in the Maltese market by businessman George Spiteri who opened the first bottling plant in Qormi. In 1970 the business was acquired by the Mizzi family in 1970 who have held the Coca-Cola franchise for Malta ever since.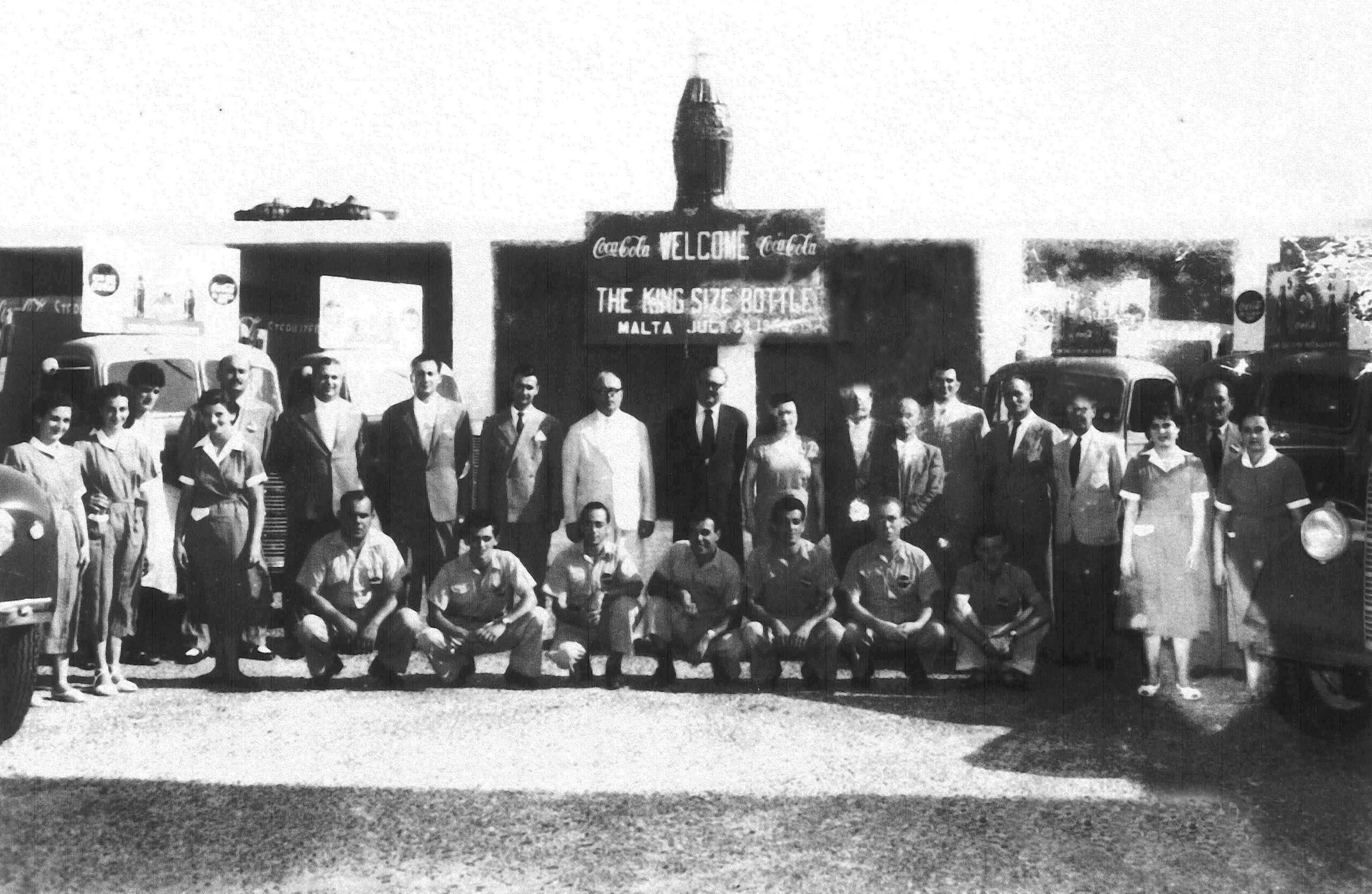 ABOUT US
The General Soft Drinks Co Ltd has been operating in Malta for 50 years and is an independent Coca-Cola bottler and the sole licensed bottler for products of The Coca-Cola Company (TCCC) in Malta. Our Company is responsible for manufacturing a wide range of soft drinks owned by TCCC Ltd including Coca-Cola, Diet Coke, Coke Zero, Fanta, Dr. Pepper, Sprite, Schweppes, and Kristal.
Through our sister company, GSD Marketing, we sell and distribute TCCC products manufactured in Malta as well as import, sell and distribute other TCCC products including Cappy Juices, Fuze Tea and Powerade. We also import, sell and distribute other leading brands including Monster, Bavaria, Stella Artois, 8.6, Lowenbrau, Leffe, Hoegaarden, Sol, Caffé Mauro, Aquarius and Somersby.

Our substantial impact on the Maltese economy arises from the thoughtful ways in which we interact with our suppliers, customers, consumers, and stakeholders. To this extent our Company contributes €50 million contribution in taxes which is equivalent to 0.57 % of Malta's GDP. We employ over 350 people in Malta and Gozo at our manufacturing site, offices, and distribution centres. Moreover, our system supports 1,113 jobs in its value chain which means that in Malta our Company supports 3 other jobs elsewhere in the local economy. Our Company is also certified in FSSC 22000, ISO 22000 and ISO/TS 22002, QMS 150, EMS ISO 1400, OHSAS 180001, FSM ISO 22000. These standards are supported by operating procedures and a set of behaviors which are practiced throughout the whole operation. Together, we're united by a belief that we are in the business of consumers' happiness and that we can be a force for good in our society. In fact, in 2018 our Company was a key player in bringing the beverage industry together and sign the UNESDA pledge to reduce the sugar content in our beverage portfolio by 10% by 2020. The reduction was achieved by reformulating existing products with low-calorie sweeteners, new products with no or reduced sugar, smaller pack sizes that allow portion control and moderation, promoting reduced and no-sugar products to guide consumer choice.
Our Company is committed to minimizing the environmental impact of our products and operations, with a particular focus on recycling, water stewardship, energy efficiency and climate protection through meaningful actions such as the Alter Aqua program, the Zero Waste Future program and Net Zero HoReCa program. These programmes are funded by The Coca-Cola Foundation and since their implementation in 2011,2019 and 2022 respectively, have left tangible lasting positive impacts in our society.
Mizzi Organisation
The Mizzi family is a story of businessmen spanning three generations. It begins with Spiridione Mizzi, the founding father of the company, who initially was involved in the servicing of the British fleet stationed in Malta.
Today, the Managing Director of The General Soft Drinks Company Ltd. is Brian Mizzi. Mr Mizzi has over 40 years of active service working within the Mizzi Organisation and has been actively involved within The General Soft Drinks Co Ltd since it was acquired by the Group.
The Mizzi Organisation is a conglomerate of business units spanning a broad portfolio of business interests and industry sectors, including automotive; tourism and leisure; manufacturing; services; real estate and mechanical and engineering contracting. The Organisation presently employs around 1,000 people. It consists of four main groups of companies which control several operational subsidiaries in a diverse range of economic activities and two other operational companies.